How does the Michigan Main Street Program help communities?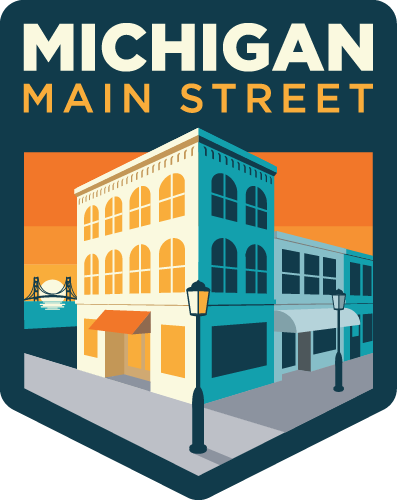 Michigan Main Street (MMS) began in 2003 and is a Main Street America™ Coordinating Program. As a MainStreet America™ coordinating program, MMS is affiliated with theNational Main Street Center, which helps to lead a powerful, grassroots network consisting of over 40 coordinating programs and over 2,000 neighborhoods and communities across the country committed to creating high-quality places and to building stronger communities through preservation-based economic development.
MMS communities are designated through a competitive application process. These communities have continued to generate real results by supporting new and existing businesses, planning and funding physical improvements, organizing events and promotions to raise the profile of their downtown district and engaging community members in downtown revitalization. Information reflecting the impact of the MMS Program is self-collected and shared with the Michigan Main Street Center by Select and Master Level communities on a monthly and annual basis.
To read more about the successes of the Michigan Main Street Program, download the full Michigan Main Street Impact Report – 2023 edition.
Main Street Approach™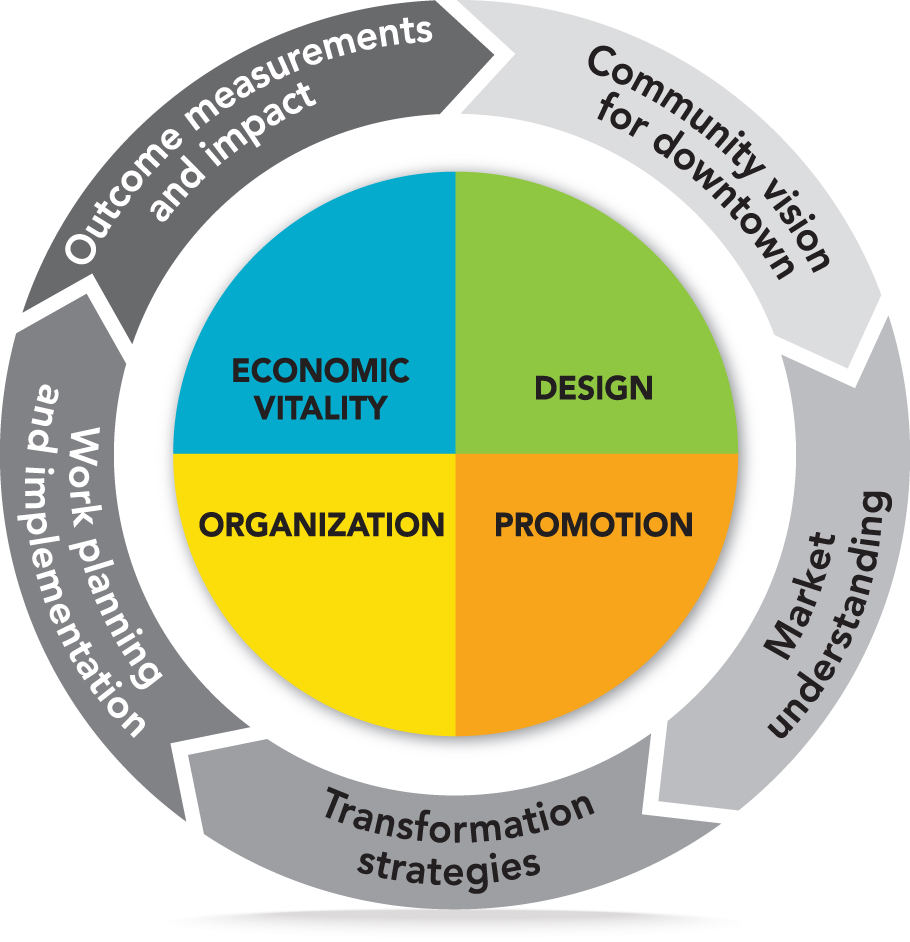 The Main Street Approach™ is a unique, historic preservation based economic development strategy that focuses on leveraging existing social, economic, physical and cultural assets to energize community revitalization efforts and help manage success for the long term. The approach leads to tangible outcomes that benefit the entire community through encouraging communities to enact long-term change while also implementing short-term, inexpensive and place-based activities that attract people to the commercial core and create a sense of enthusiasm about the community.
The Main Street Approach is a methodology consisting of three integrated components:
The vision provides a foundation for outlining the community's identity, expectations and ideals for future development while being grounded in an understanding of the economic market realities of the district.
Transformation strategies identify long-term and short-term actions that provide a clear sense of priorities and direction to help move a community closer to implementing their vision. Work on these strategies should align with the Main Street Four Points of organization, promotion, design and economic vitality.
The Main Street organization must show visible results that can only come from implementing action items and completing projects in the short-term and long-term. Main Street must focus on measuring progress and results in order to justify and demonstrate the wise use of scarce resources.

Is the Michigan Main Street Program right for your community?
Successful Main Street Districts provide:
Walkable, human-scale environments
Unique, historic and visually attractive architecture
A mix of uses, activities and consumers
A strong existing tax base that attracts new businesses and creates jobs
A center for activity and community life
Positive community image and identity
Opportunities for public-private partnerships
A place for the community to define its identity through a shared vision of place
Key Questions:
Does your potential district meet MMS standards for traditional downtown and/or neighborhood commercial districts?
Is historic preservation important to local citizens and stakeholders?
Is downtown revitalization a community priority?
Do you want to leverage human and financial resources in support of downtown?
Is there a desire to build broad-based community support for downtown revitalization?
Are public and private stakeholders ready to engage in these efforts?
If so, participation in the Main Street Training Series is the first step.
Goals of The Main Street Training Series & Engaged Level:
Familiarize community and key stakeholders with the Main Street Approach™
Access tools designed to build awareness and resources for future Main Street programming
Identify local stakeholders and strategies to engage them in the Main Street effort
Join a statewide network of participating communities, including access to the MMS Listserv, to ask questions, make connections and see Main Street in-action across the state