SIGNIFICANCE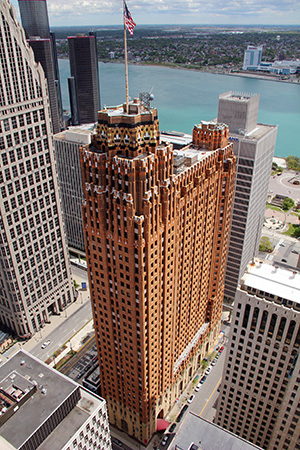 The Guardian Building is part of the progression of the American skyscraper that began with Cass Gilbert's Woolworth Building in New York and is one of the most exuberant Art Deco skyscrapers built in America. Brilliantly colored Arts and Crafts tiles and orange brick, formulated especially for this building, cover the thirty-six-story steel frame structure. From its location on an entire block in the financial district, the warm and colorful bank building exudes a friendly cordiality.
The building is profusely ornamented inside and out with geometric designs executed in brilliantly colored terra cotta and glazed tile, and gold-stained glass and metal. Much of the tile used inside and out was created by Detroit's famed Pewabic Pottery. Because of its plan, its lofty banking room with nave and side aisles, and its sumptuous decoration, the bank and office building appropriately was termed "the cathedral of finance."
The lobby and banking hall are open to the public and guided tours are available for a fee.
DESIGNATION(S)
1989, National Historic Landmark
1989, National Register of Historic Places
ARCHITECT, BUILDER, OR DESIGNER(S)
Wirt C. Rowland, architect
Mary Chase Perry Stratton, ceramics artist
SIGNIFICANT DATE(S)
LINKS AND FURTHER READING