SIGNIFICANCE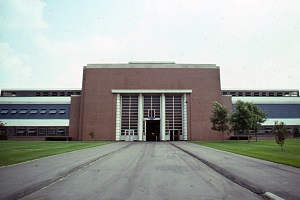 The River Rouge Complex is one of the industrial wonders of the world, an integrated operations plant encompassing all basic steps in automobile production. Shortly before 1920, Henry Ford (1863-1947) began to shift his production from the Highland Park Plant to this 2,000-acre site on the Rouge River. By the late 1930s, Ford had built more than two dozen steel-and-glass, one- and two-story industrial buildings, all designed by Albert Kahn.
The Rouge was the largest single manufacturing complex in the United States, with peak employment of about 120,000 during World War II. Here Henry Ford achieved self-sufficiency and complete vertical integration in automobile production, a continuous work-flow from iron ore and other raw materials to finished automobiles. The complex included dock facilities, blast furnaces, open-hearth steel mills, foundries, a rolling mill, metal stamping facilities, an engine plant, a glass manufacturing building, a tire plant, and its own powerhouse supplying steam and electricity.
Over the years, the River Rouge complex has been enlarged and modernized. Several of the original Albert Kahn-designed buildings have been demolished or altered as manufacturing needs have changed. A number of significant buildings remain and retain integrity, among them the Stamping Plant, the Engine Plant, the Tool and Die Plant, and the now-closed powerhouse. In addition to these remaining buildings, River Rouge remains worthy because of its unique nature and its vital contributions to improved manufacturing techniques, a legacy carried forward today.
DESIGNATION(S)
1976, State Register of Historic Sites
1977, Michigan Historical Marker
1978, National Historic Landmark
1978, National Register of Historic Places
ARCHITECT, BUILDER, OR DESIGNER(S)
SIGNIFICANT DATE(S)
1915, Ford Motor Company purchased the land upon which the River Rouge Complex would eventually be built
1927, final assembly line was shifted from Highland Park to the River Rouge Complex
1927, manufacture of the Model A began
LINKS AND FURTHER READING