SIGNIFICANCE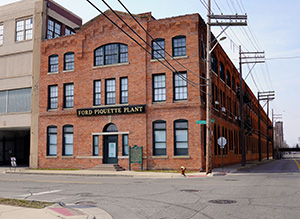 The Ford Piquette Avenue Plant is located approximately three miles north of the Detroit River in a neighborhood of the City of Detroit just east of Woodward Avenue between the Edsel Ford Freeway (I-94) on the south and East Grand Boulevard on the north, known as Milwaukee Junction. Residential development had not yet reached this far northward when the Ford Piquette Plant was built in 1904, but nearby rail lines were already established, making it attractive to the several automobile and automobile related companies that located there in the early years of the twentieth century. Several other industrial buildings situated along this rail line, both east and west of Woodward Avenue, still remain today and are separately listed in the New Amsterdam Historic District and Piquette Avenue Industrial Historic District.
The Ford Piquette Avenue Plant is nationally significant on several grounds. First, it was the factory where the Ford Motor Company initially achieved quantity production of technically advanced, yet inexpensive, automobiles, enabling the firm to become the largest automobile producer in the United States beginning in 1906. The Ford Motor Company became the leading firm in the American automobile industry two years after moving into this plant. Second, it was the place where the Ford Motor Company made substantial advances in manufacturing methods, making possible the moving assembly line introduced later at the Ford Highland Park Plant. Third, it was the birthplace of the Model T Ford, the most significant car in the history of the automobile industry. The Model T was conceived, designed, and first produced there. The site is also architecturally significant for its distinctive method of construction, which soon became obsolete as a result of innovations in building technologies and the necessities of industrial production.
Today, the Ford Piquette Avenue Plant is a non-profit museum dedicated to the preservation of the birthplace of the Model T and the interpretation and celebration of Detroit's automotive heritage and spirit of innovation.
DESIGNATION(S)
2002, National Register of Historic Places
2003, State Register of Historic Sites
2006, National Historic Landmark
ARCHITECT, BUILDER, OR DESIGNER(S)
Field, Hinchman & Smith, architects
SIGNIFICANT DATE(S)
1904, plant completed
1908, Model T production begins at plant
LINKS AND FURTHER READING