SIGNIFICANCE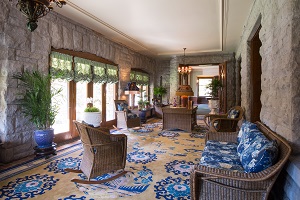 "Originally encompassing over 2,000 acres on the Rouge River, Fair Lane was the residential estate of Henry Ford (1863-1947) and his wife Clara Bryant Ford (1866-1950). Marion Mahoney Griffin, a close adherent of Frank Lloyd Wright and wife of the famous Water Burley Griffin, and then connected with the Chicago firm of von Holst and Fyfe, prepared plans in 1912 for a Prairie-style house for the Fords. But a disagreement over contractors and suppliers arose as construction was underway, and the Fords dismissed the firm. William H. Van Tine of Pittsburgh was called in. He altered Marion Mahoney Griffin's plans. The large, Marblehead limestone house resembles the early English or Scottish Baronial style of architecture, but in fact is a blend of the Late English Gothic with the Prairie style. On the river side, a round, medieval, castellated corner tower and a stepped, parapeted gable are applied to the low, horizontal house. The entry side has a porte-cochere. Jens Jensen did the landscaping from 1914-1920; the gardens are now being restored. On the grounds are servants' cottages, a pony barn, and a powerhouse connected to the house by a 300-foot-long tunnel. Today Fair Lane is used by the University of Michigan Dearborn Campus as a conference center."*
Henry Ford revolutionized transportation in America by mass producing an inexpensive and reliable automobile. That car, the Model T, ushered in the age of the automobile and is considered to have transformed the United States from a rural-based to an urban-centered country.
*Excerpted from Buildings of Michigan by Kathryn Bishop Eckert (Oxford University Press, 1993).
Fair Lane Estate: Home of Clara and Henry Ford is in the midst of a multi-year, comprehensive restoration effort. The restoration project was awarded a 2021 Governor's Award for Historic Preservation from the State of Michigan. Learn more.
DESIGNATION(S)
1958, State Register of Historic Sites
1966, National Historic Landmark
1966, National Register of Historic Places
1978, Michigan Historical Marker
ARCHITECT, BUILDER, OR DESIGNER(S)
William H. Van Tine, architect
Jens Jensen, landscape architect
SIGNIFICANT DATE(S)
1914-15, estate constructed
LINKS AND FURTHER READING