How to Become a Certified Local Government
Joining the Certified Local Government (CLG) program is an easy process through which SHPO works with the applicant to outline a preservation program that will help the community be successful in its efforts. Communities (counties, townships, cities, and villages) can apply to become a CLG at any time. SHPO accepts applications year-round and reviews them on a continual basis.
The process is designed to help a community achieve certification in a timely manner. In general, the certification process takes 3-6 months if communities already have a local historic district ordinance in place, but the timing is largely dependent on how quickly the comunity returns materials.
A detailed explanation of the application process is available in Michigan's Certified Local Government Certification Manual and summarized below. Application materials can also be found below.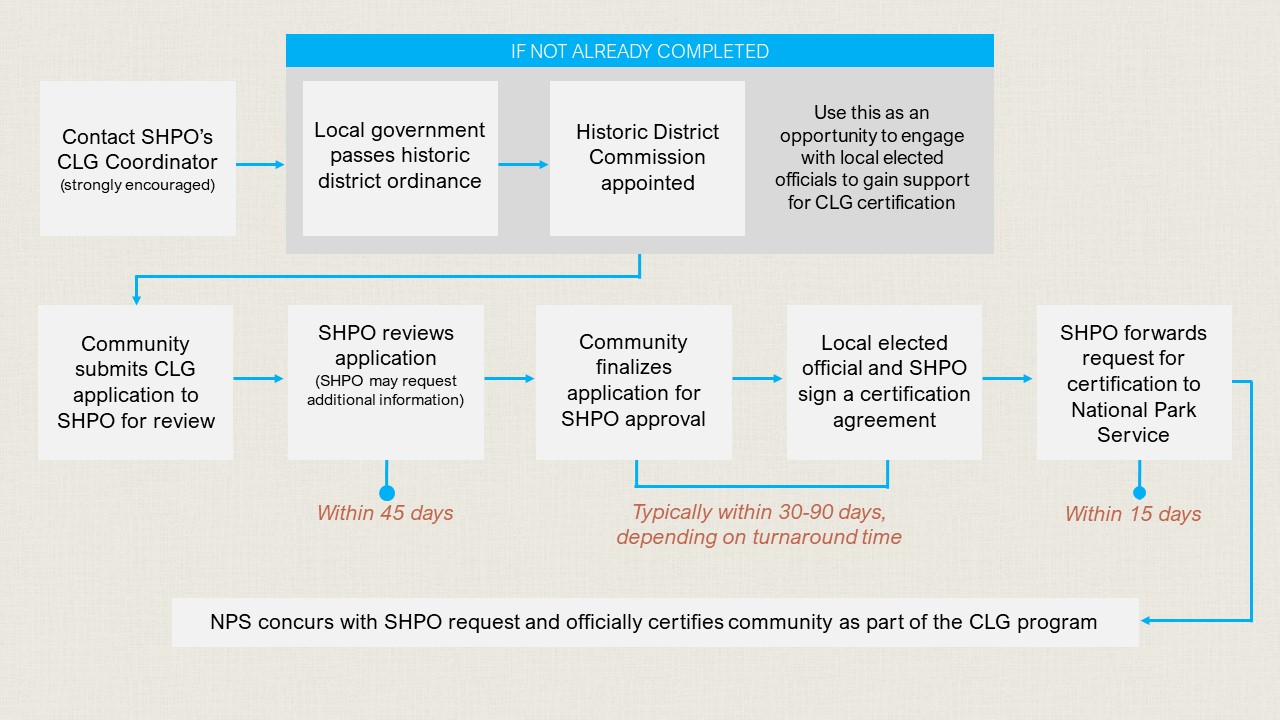 1. CONTACT SHPO'S CLG COORDINATOR
SHPO works with communities to ensure they meet National Park Service (NPS) requirements for the CLG program. Communities wishing to pursue CLG status are strongly encouraged to contact SHPO prior to applying for certification.
SHPO's CLG Coordinator is available to meet with local officials, historic district commissioners, planning managers, and others to discuss the CLG program, its requirements, and benefits to make sure they understand the program and how it can help them meet their community's goals and priorities. The SHPO CLG Coordinator is also available to talk through the application process and required materials, which can help streamline the process.
2. ADOPT A LOCAL HISTORIC DISTRICT ORDINANCE (if not already completed)
If the local government has not already done so, it must adopt a local historic district ordinance complying with the requirements of Public Act 169 of 1970 (PA 169), as amended (Michigan's Local Historic Districts Act), prior to applying for CLG certification. Need guidance on preparing a local historic district ordinance or want a model ordinance you can use as a starting point? See SHPO's guidance here.
3. APPOINT A HISTORIC DISTRICT COMMISSION (if not already completed)
Following adoption of the ordinance, the local government should solicit interest in and appoint members to the historic district commission in accordance with the requirements outlined in PA 169. The goal is to identify knowledgeable and qualified persons who will promote responsible decision-making. Once established, the commission should hold its first meeting and approve rules of procedure, including bylaws and a conflict of interest policy.
4. COMPLETE SHPO'S APPLICATION FOR CLG CERTIFICATION
Once a community has its local district ordinance and historic district commission in place, it can apply to SHPO for CLG certification by preparing an application meeting the requirements outlined in Michigan's Certifiied Local Government Program Manual.
NOTE: Applicants are strongly encouraged to contact SHPO's CLG Coordinator prior to completing the application if they have not already done so. This helps to make sure the process as efficient as possible.
Application Materials
As part of the application process, the applicant will be required to provide the following to SHPO:
A letter signed by the chief elected official (e.g., mayor) requesting CLG certification (template available here);
A copy of the local historic district ordinance;
A list of and maps for any locally designated historic districts ;
A roster of and resumes for Historic District Commission (HDC) members (template available here);
A summary of past, current, and proposed survey activities; and
Goals for the local historic preservation program.
5. SHPO REVIEW OF APPLICATION
Once SHPO receives an application, the CLG Coordinator reviews the materials to make sure that all required information has been submitted and that the community has satisfactorily demonstrated its ability to meet program requirements. Within 45 days of receipt, the CLG Coordinator will provide a letter summarizing the results of SHPO's review:
If SHPO finds the application to be satisfactory, the CLG Coordinator will provide confirmation to the applicant.
If SHPO identifies that additional information is needed to make the application complete, SHPO will provide written comments indicating the materials required to complete the review.
Once SHPO receives a satisfactory application:
The SHPO CLG Coordinator will prepare a Certification Agreement for electronic signature by SHPO and the chief elected official (e.g., mayor) of the local government.
Within 15 days of receiving the signed Certification Agreement from the local government, SHPO's CLG Coordinator will forward a recommendation for certification of the community to NPS for review and approval.
6. NPS REVIEW AND CERTIFICATION
All final certifications are the responsibility of the National Park Service. NPS will review SHPO's recommendation and, if everything is satisfactory, certify the local government as a CLG. Certification becomes effective on the date that NPS concurs in writing with SHPO's recommendation. Once certified, a community is immediately eligible to receive program benefits.