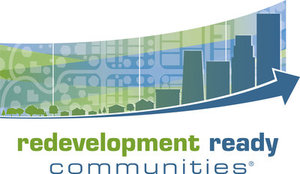 Are you a community interested in attracting new investors, businesses and residents? Would you like to grow through a strategic community-driven approach to development? Redevelopment Ready Communities® (RRC) is a voluntary technical assistance initiative offered through the Michigan Economic Development Corporation (MEDC) to empower communities in shaping their future by building a strong foundation of planning, zoning, and economic development best practices. The toolkit, developed by experts in the public and private sectors, encourages communities to streamline their development practices, with the goal of becoming "redevelopment ready." Through active engagement of stakeholders and proactively planning, communities can become more attractive for development projects that create places where people want to live, work, and invest.
Already know that RRC is right for your community? Learn more on the process, including how to formally engage, here.
Why become redevelopment ready?
To be vibrant and competitive, Michigan communities must be ready for development. This involves planning for new investment and reinvestment, identifying assets and opportunities, and focusing limited resources. Certified Redevelopment Ready Communities® attract and retain businesses, offer superior customer service and have a streamlined development approval process making pertinent information available around-the-clock for anyone to view.
Where do I begin?
The foundation of the toolkit program begins with RRC Best Practices. Developed by experts in the public and private sector, these best practices are the standard to achieve certification. They're also designed to create a predictable and straightforward experience for investors, businesses and residents working within a community. These best practices challenge communities to be flexible while seeking quality development that supports a sense of place. To learn more about RRC best practices, download the Best Practices document.
Interested in becoming redevelopment ready?
The Redevelopment Ready Communities® (RRC) program is open to any community in Michigan—at no cost. Those who will benefit most are communities that either already have an area of concentrated development such as a traditional downtown or commercial corridor or are planning for such development.
Learn more about the process, including how to formally engage, here.
Communities wishing to focus specifically on the revitalization of their downtown are encouraged to participate in Michigan Main Street. Michigan Main Street exists to help communities develop main street districts that attract both residents and businesses, promote commercial investment and spur economic growth by helping to educate and organize local stakeholders and partner organizations. Communities can leverage the benefits generated through RRC certification by participating in Main Street to support overall community prosperity.
For more information about RRC and/or Michigan Main Street, please contact your regional Community Planner.