SIGNIFICANCE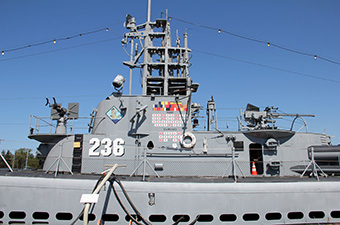 USS Silversides (SS-236) was launched at Mare Island Naval Yard, California, on August 26, 1941. She is a fleet-type submarine (built to maintain fleet speeds averaging 17 knots) of the Gato (Drum) class.
In the conflict against Japan in World War II, the role and importance of the submarine forces of the United States cannot be overestimated. American submarines sank more than 600,000 tons of enemy warships and more than 5,000,000 tons of merchant shipping, thus destroying much of Japan's ocean commerce. This was accomplished by a force that never numbered more than two percent of naval personnel engaged in the war. The American submarine war against Japan created a blockade that denied them the oil, iron ore, food, and other raw materials they needed to continue to fight. By 1945 this submarine war made it virtually impossible for any Japanese ship to sail the ocean. Without this commerce and the raw materials it supplied to their war effort, Japan found it impossible to continue the war outside of the homeland. No other WWII submarine remains which sank more ships than the USS Silversides.
In 1987, the submarine was moved to Muskegon, Michigan, to serve as the centerpiece of the USS Silversides Submarine Museum, which is open to the public.
DESIGNATION(S)
1972, National Register of Historic Places
1986, National Historic Landmark
ARCHITECT, BUILDER, OR DESIGNER(S)
Mare Island Naval Yard, Vallejo, California, builder
SIGNIFICANT DATE(S)
1941, the USS Silversides was launched at Mare Island Naval Yard, Vallejo, California, August 26
1941, commissioned on December 15
LINKS AND FURTHER READING