SIGNIFICANCE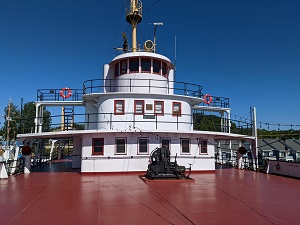 The Great Lakes car ferry S. S. City of Milwaukee is a steel-hulled vessel with a steel superstructure. A dominant feature is the large four-track enclosed car deck which will hold 22 modern-size freight cars. The City of Milwaukee was built in 1931 by the Manitowoc Shipbuilding Company at Manitowoc, Wisconsin for the Grand Trunk Western Railway. She is a steam, twin screw propelled train ferry.
Some have viewed the Great Lakes as a natural barrier to transportation. Still others have viewed this inland sea as a transportation network to be utilized. Whether barrier or network, it was still essential for the economic development of the upper Midwest that railroad cargoes cross these waters. At first railroad cargoes were reloaded onto package freighters for forwarding to lake ports, there to be once again loaded aboard freight cars. Barges carried loaded train cars across the calm rivers that were part of the Lake system. On November 24, 1892, a bold experiment began at South Frankfort, Michigan, to transport loaded freight cars across the open water of these Great Lakes. The effort required a specialized craft, able to load 24 train cars and to provide service on the often stormy and ice-packed lakes. The experiment, an immediate success, began a unique American maritime enterprise: the Great Lakes (train) car ferry fleet. Eventually, 39 vessels were built for this service, which operated for nearly one hundred years. The Great Lakes car ferry fleet became the largest open lake train ferry system in the world. At its peak, it used 14 individual vessels to transport 14 full freight trains a day across Lake Michigan alone. As many as 26 port cities around the Great Lakes were part of this rail link. The greatest annual mileage of any ship in the world is bestowed to a Great Lakes car ferry.
City of Milwaukee is the sole surviving example of a pre-1940, "classic" period Great Lakes car ferry. City of Milwaukee is in excellent and nearly original condition with only minor changes attained over a fifty year career. She embodies the distinctive characteristic of these specialized craft and possesses all the historic features associated with these vessels. City of Milwaukee was involved in cross-lake train car ferry service all of her working life (1931-1982). She is closely associated with events that have made a significant contribution to the maritime history of the Great Lakes region. City of Milwaukee and her five sister ships were considered to be the aesthetic peak of car ferry design. Built during the early days of the Depression, and because of declining cargo, she soon became the Grand Trunk Railway's "spare boat." As such, she was frequently leased to other railroads, and thus City of Milwaukee has a historic connection to each of the car ferry fleets which operated on Lake Michigan. Over the years she was frequently leased to the Ann Arbor Railroad, and she officially became part of the Ann Arbor fleet during the final years of her working life. Because of her excellent, unaltered condition, she possesses a high degree of integrity in each aspect of design, location, setting, material, workmanship, and especially feeling.
The S. S. City of Milwaukee is open to the public as a floating museum of car ferry history, located in Manistee, Michigan.
DESIGNATION(S)
1990, National Historic Landmark
1990, National Register of Historic Places
ARCHITECT, BUILDER, OR DESIGNER(S)
Manitowoc Shipbuilding Company
SIGNIFICANT DATE(S)
LINKS AND FURTHER READING