SIGNIFICANCE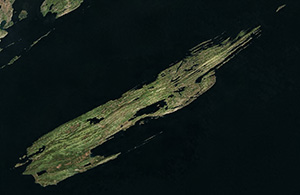 The Minong Copper Mining District within Isle Royale National Park is nationally significant because it showcases the intimate connection between North America's most significant Indigenous and historic native copper mining activities. The site has high integrity and combines one of the largest, best preserved Indigenous copper mining landscapes with the well-preserved remains of the largest historic copper mining operation on Isle Royale. Minong is the Ojibwe term for Isle Royale.

The Indigenous copper mining pit concentration within the Minong Copper Mining District is one of the largest ever found and is by far the most thoroughly studied. The Minong Copper Mining District figured prominently in several early archaeological investigations, contributing to the development of archaeological science with respect to understandings of Indigenous copper mining. Much of our modern archeological knowledge of Indigenous native copper mining methods stems from field research undertaken at this site.
The NHL boundary covers over 200 acres and encompasses the Minong Mine archeological site and the McCargoe Cove occupation archeological site. The Minong Mine site includes both the Indigenous copper mining pit concentration and the historic remnants of the Minong Mining Company. The McCargoe Cove site includes both an Indigenous occupation and the remains of the historic village of Cove. Archaeological and historical evidence suggests copper mining activity by native groups started no less than 4500 years ago. Mining continued through the 1880s.
DESIGNATIONS
2021, National Historic Landmark
2019, National Register of Historic Places
1931, Isle Royale National Park established
LINKS AND FURTHER READING