SIGNIFICANCE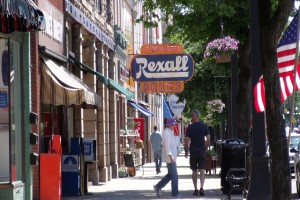 The Marshall National Historic Landmark District comprises an outstanding collection of remarkably intact nineteenth and early twentieth century architecture in a small-scale American city. The city once served as the bustling commercial, political and social center of the surrounding agrarian region in south-central Michigan.
The district is a virtual encyclopedia of America's most popular styles during the nineteenth and early twentieth centuries, including Federal, Greek Revival, Gothic Revival, Italianate, Italian Villa, Stick, Queen Anne, Colonial Revival, Foursquare, Bungalow, Beaux-Arts Classical, Neoclassical and Art Deco. Most houses are built of wood, but many are executed in brick or yellowish-brown Marshall sandstone quarried locally. Nearly 800 buildings are considered to have contributing status to the district.
Marshall appreciates and celebrates its history. It is home to the longest-running home tour in the Midwest. Eight small museums are dedicated to telling unique stories of the area. The small city is a wonderful historic destination.
DESIGNATIONS
1991, National Historic Landmark
SIGNIFICANT DATE(S)
1831-1940, era in which the buildings were constructed
LINKS AND FURTHER READING