SIGNIFICANCE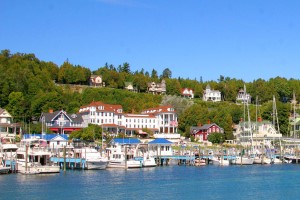 "The Straits of Mackinac have a long history of French, British and American presence from the seventeenth century fur trade to late nineteenth-century tourism. Following the American Civil War, Mackinac Island became a popular summer resort noted for its historic charm, natural beauty and healthy environment. Many of the structures built during this era remain as well-preserved examples of late nineteenth-century resort architecture.
The federal government created the Mackinac National Park in 1875, in response to the island's growing popularity as a summer resort and in order to preserve its historic and natural wonders. From throughout the Midwest, visitors flocked to the island, coming by train and steamboat. Early visitors here found a few resort hotels, including the Mission House, a converted 1825 Indian mission school first used as a hotel around 1850, the Island House (1852) and the Lake View House (1858). But these few hotels could hardly accommodate the rush of new visitors to the island in the 1870s.
From 1875 through the turn of the century, several hotels expanded their facilities, and new hostelries sprung up. By 1910 visitors could choose from several new hotels, including the Murray (1882), Chippewa (1902) and Iroquois (ca. 1902) hotels. But the construction and success of the colossal and classy Grand Hotel (1887) assured Mackinac's reputation as a premier Great Lakes summer resort. One of the largest summer hotels in the world, the Grand boasted a sweeping 627-foot veranda with a spectacular view of the Straits, a palatial dining room with elegant appointments, and accommodations for more than one thousand guests.
In 1895 the federal government turned the National Park over to the state of Michigan, and the Mackinac Island State Park was created. The state park continued to lease land to prospective cottage owners into the twentieth century.
Mackinac Island's hotels and cottages chronicle Late Victorian and various revival styles designed for use in a summer resort environment. The overall effect is light, airy and festive. Interiors are designed for the free flow of fresh lake breezes. Similarly, both hotels and cottages are generously supplied with large windows and sets of double doors, wide verandas and open belvederes—elements designed to integrate Mackinac's pleasant summer climate with the interior of the cottage.
Mackinac Island remains one of Michigan's most popular summer resorts. The historic character of the island today is enriched by the many extant late nineteenth-century resort-era structures."*
*Excerpted from the book Buildings of Michigan by Kathryn B. Eckert (Oxford University Press, 1993).
DESIGNATIONS
1956, State Register of Historic Sites
1956, Michigan Historical Marker
1960, National Historic Landmark
1966, National Register of Historic Places
SIGNIFICANT DATE(S)
1875, the federal government created the Mackinac National Park in response to the island's resort and to preserve its historic and natural wonders
1887, the Grand Hotel was constructed
1895, the federal government turned the National Park over to the state of Michigan and the Mackinac Island State Park was created
LINKS AND FURTHER READING