SIGNIFICANCE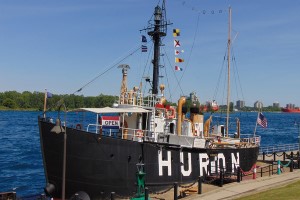 Lightship No. 103, also known by her last official designation name of Huron, is one of a small number of preserved historic American lightships. Essential partners with lighthouses as aids to navigation along the coast of the United States, lightships date back to 1820 when the first vessel to serve as an aid to navigation was commissioned. The ships were typically stationed near dangerous areas where it was difficult or impossible to build a lighthouse, or were anchored near existing lighthouses that were non-functioning. Preserved lightships in the United States date from 1904 to 1952, when the last was built and launched. The period between 1918-1920 saw the construction of several of these vessels, of which No. 103 is the only remaining example. The smallest surviving lightship and sole representative of the 96-foot class, No. 103 was designed and built specifically for Great Lakes service, and today is the only surviving lightship on the Lakes.
The vessel was launched on May 1, 1920, when she was 74 percent complete. On December 3-4, 1920, the lightship being nearly complete, No. 103 underwent trials and was conditionally accepted by the U.S. Lighthouse Service. The ship's total cost was $147,428. In the spring of 1921 the lightship was ready for duty. She served at various stations on the upper Great Lakes before being assigned to the sandy Corsica Shoal about 6 miles north of Port Huron in 1935, which became her home station through the end of her career.
On August 20, 1970, the anchor was raised for the last time as No. 103 departed the station, signifying the end of the lightship era on the Great Lakes. A lighted buoy replaced the lightship. Decommissioned at Detroit on August 25, the lightship was transferred to the City of Port Huron on June 5, 1971. Moved to Pine Grove Park on August 29, 1972, the lightship was dedicated as a historical monument and exhibit on October 4, 1974. From 1973 to 1977 the local Naval reserve used the lightship for training purposes and maintained the ship.
Learn more about the Huron lightship and plan your visit to this museum at the website of the Port Huron Museum.
DESIGNATION(S)
1973, State Register of Historic Sites
1973, Historical Marker erected
1976, National Register of Historic Places
1989, National Historic Landmark
ARCHITECT, BUILDER, OR DESIGNER(S)
Consolidated Shipbuilding Corporation, Morris Heights, NJ, builder
SIGNIFICANT DATE(S)
1920, Lightship 103 was launched May 1
1936, Lightship 103 reassigned to Lake Huron station, where she remained for 34 years until her retirement
1970, Lightship 103 was decommissioned August 25
LINKS AND FURTHER READING