SIGNIFICANCE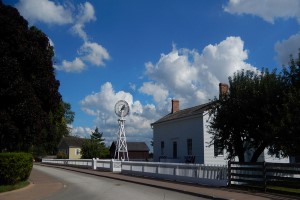 The Edison Institute, better known as The Henry Ford: Henry Ford Museum and Greenfield Village, is one of America's outstanding museums and museum villages. The Institute's significance is fourfold. First, it illustrates Henry Ford's conception that the history of American material progress is a story of the development and growth of agriculture, manufacturing, and transportation. As a reflection of Ford's ideas, the Institute contributes to the understanding of an important figure in American industrial history. Second, the Henry Ford Museum contains one of the most important collections of Americana in the United States. As such it is an important educational resource. Third, Greenfield Village is a precedent-setting open-air outdoor village museum that served as a model in the development of other such villages across the United States. Lastly, Greenfield Village influenced the historic preservation movement, first, by developing a type of historic preservation centered on preserving and interpreting historic buildings by moving them to a re-created village setting and, second, by stimulating a reaction to the museum village that lead to the extension of the historic preservation concept to include the preservation of the built environment in situ as documents of time, place, and historical continuity.
DESIGNATION(S)
1962, Michigan Historical Marker
1963, State Register of Historic Sites
1969, National Register of Historic Places
1981, National Historic Landmark
ARCHITECT, BUILDER, OR DESIGNER(S)
Robert O. Derrick, architect
SIGNIFICANT DATE(S)
1927, Henry Ford settled on a plan for his museum.
1928, The design for the museum complex was decided upon and construction began.
1933, The Edison Institute opened to the public.
LINKS AND FURTHER READING