SIGNIFICANCE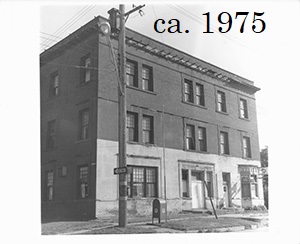 The Durant-Dort building served as the focal point for William C. Durant and J. Dallas Dort's promotional activities in the carriage and automobile businesses from 1896 to 1913 and is credited with being the 1908 birthplace of General Motors. It remains the last physical link to Durant's pioneer efforts in the carriage and automobile business. Around 1900 the company replaced the structure's original flat roof with a hip-roof with dormers and added an entrance portico. During the Great Depression and WWII the building was the headquarters of several service organizations, including the Red Cross, the Flint Chamber of Commerce, and the Michigan Children's Aid Society.
In 1908 William Crapo Durant founded General Motors. Durant envisioned the creation of a large company that would manufacture not one but several makes of automobiles, as well as parts for them, and he set up the General Motors Acceptance Corporation for consumer financing. He was also responsible for bringing Alfred P. Sloan, Jr., and Charles F. Kettering into General Motors, and for GM's acquisition of the Fisher Body Company and Frigidaire.
The building saw several other uses in the mid-20th century, which added a third story and made other structural changes. By the mid-1970s, it was mostly empty and in extreme disrepair. Knowing of its significance, the community came together to raise money and undertake a substantial restoration project to restore its original design. The Durant-Dort Headquarters has been carefully restored back to its early-1900s appearance and it is now open to the public as the home of the Genesee County Historical Society and for special events.
DESIGNATIONS
1975, National Historic Landmark
1975, National Register of Historic Places
1978, Michigan Historical Marker
SIGNIFICANT DATE(S)
1895, building constructed
LINKS AND FURTHER READING