SIGNIFICANCE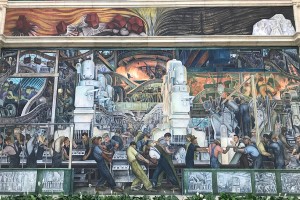 Between July 1932 and March 1933, Diego Rivera, a premier leader in the 1920s Mexican Mural Movement, executed one of this country's finest, modern monumental artworks devoted to industry. Considered to be the most complex artwork focused on American industry, the Detroit Industry mural cycle depicts the city's manufacturing base and labor force on all four walls of the Detroit Institute of Art's garden court, since renamed the Rivera Court. Rivera's technique for painting frescoes, his portrayal of American life on public buildings, and the 1920s Mexican mural program itself directly led to and influenced the New Deal mural programs of the 1930s and 1940s.
Rivera conceived of the Detroit Industry murals as a tribute to the city's manufacturing base and labor force of the 1930s, with a specific focus on the manufacture of the 1932 Ford V-8 at the Ford Motor Company's Rouge Plant. Twenty-seven interrelated panels depict industry and technology as the indigenous culture of Detroit and stress the relationship between man and machine and the continuous life cycle. These panels illustrate the dual nature of humanity and technology—their constructive and destructive aspects—where factories both support and enslave the workers in an elaborate system that begins with raw materials and ends with the manufacture of a car. Rivera cast a cosmological significance to Henry Ford's industrial complex by integrating images of Aztec deities into the machines. Cosmic duality is also presented in the contrasting contributions of the gigantic four races, the economic interdependence of North and South America, and the social and workforce duality of the working and owner classes.
Detroit Industry remains today as a monumental modern work of art for all to deliberate and enjoy. It is open to the public with admission to the Detroit Institute of Arts.
DESIGNATION(S)
1983, National Register of Historic Places, Cultural Center Historic District
2014, National Historic Landmark
ARCHITECT, BUILDER, OR DESIGNER(S)
SIGNIFICANT DATE(S)
LINKS AND FURTHER READING