SIGNIFICANCE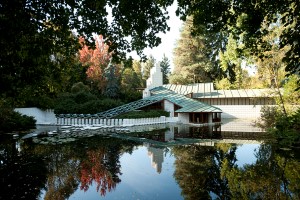 Alden B. Dow's own studio, placed along a stream and a plum grove in the park-like garden of his father's (Herbert H. Dow) house, opened his architectural career with the most beautiful expression of his picturesque architecture. Although Dow apprenticed with Frank Lloyd Wright in the summer and fall of 1933, the lyrical composition of his studio and home is very much his own. The former playroom of the Dow house holds the Alden B. Dow Archives. The family is preserving the home and studio under the Alden and Vada Dow Creativity Foundation.
The architecture of Alden B. Dow received national attention from his very early career through to his late period, partly because he was closely associated with Frank Lloyd Wright, although a number of his designs are more closely allied with European Modernism. Dow was clearly placed between the two movements. He did not have the struggle to establish himself financially that Sullivan and Wright had - he was free of the necessity to compromise and he had the luxury of pursuing his own aesthetic. The body of his work is of rare quality and completeness and remains highly original among the contending forces of 20th-century architecture. The house and studio are, however, his most clearly acknowledged masterpiece.
Today, the house and studio are open to the public.
DESIGNATION(S)
1989, National Historic Landmark
1989, National Register of Historic Places
ARCHITECT, BUILDER, OR DESIGNER(S)
SIGNIFICANT DATE(S)
1934, Studio constructed
1941, House constructed
LINKS AND FURTHER READING